Rally Round a loved one.
Coordinate help for a relative who needs more practical support. Invite family and friends and organise jobs and helpers.
How it works
Create a FREE account for someone who needs help…


Invite trusted friends and family to help…


Add the jobs which need doing…


Your trusted helpers complete the jobs…

New iPhone app
Rally Round is now available in the App Store
You can do almost everything that you can do on the website with the convenience of a phone.

Or find out more about the iPhone app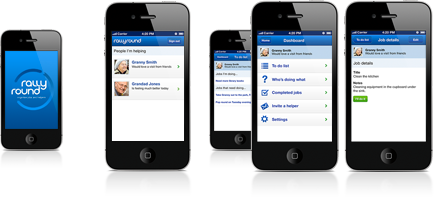 Features
Simple to do lists

There's a 'to do list' for jobs which need doing and one for the jobs which you're doing, it's really simple!…

Add notes

Add notes to jobs to give helpers a bit more detail like the time of an appointment or a shopping list…

Safe and private

You choose who to invite so you can be sure only trusted helpers are involved…

Daily email update

Keep helpers up-to-date with the jobs which need doing via our automatic free email service…